– Tinder acquires Tappy!
– Now that's a bargain!
SAID NO AVERAGE MOBILE APP USER, BECAUSE, MOST PROBABLY, NONE OF THESE NAMES RING ANY BELLS. LETS TRY AND SHED SOME LIGHT ON THE ISSE!

Tinder is an application that helps you pick out the perfect conversation partner or a candidate for acquaintance out of the people in your area, using the specified parameters, based on their Facebook account profile data. The project won TechCrunch's "Best New Startup of 2013″ award. And, as history tells us, this application became particularly popular when athletes, staying in the Olympic Village during the 2014 Olympic Games, started using it. By the way, last autumn the number of active daily users of the service hit 15 million. Returning to the subject at hand, Tinder bought Chill, which in turn created the messenger Tappy. Thus adding them to their development team.
What was notable about Tappy?
Tappy is a mobile messenger that uses photos, giving communication new forms. All messages disappear after 24 hours, and new ones must necessarily begin with a photo. That is why the "incoming" section looks more like a news feed page with large photos set as covers to chat rooms. A fast and small application that helps establish communication in different ways, taking the best features from Snapchat and Instagram.
This is the moment where many people, who are familiar with the Tinder Moments function,
which enables users to send photos with text messagesover them to each other, will ask the question: why did Tinder need to spend their resources on the development team to make, essentially, the same service?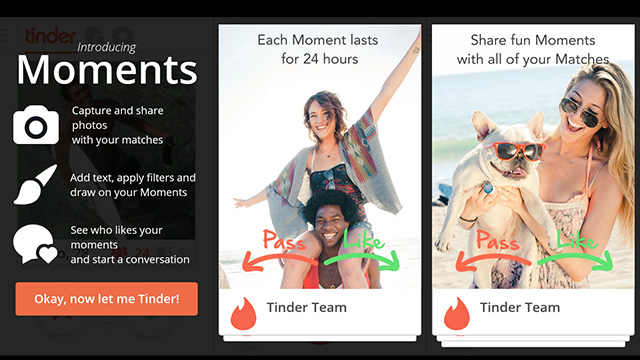 Responding to this, Sean Rad, Tinder co-founder and CEO, stressed the project's huge growth rate and great need for new talented professionals who could help in the implementation of Tinder's ambitious plans for 2015. As Sean spoke to the creator of Tappy he realized that, in terms of vision for their projects, they have a lot in common. Therefore, the purchase of said startup is nothing more than an investment into a photo and message exchange service and, at the same time, the full acquisition of a possibly promising (because now we will never know for sure) competitor.
Tinder boss, being frank to the very end, said his service is doing a great job coping with its main function of helping people find each other. However, they (Tinder's team) want to figure out the subsequent stages of user communication more qualitatively and profoundly. So, having received its $10 million investment, Tappy ceased to exist, and its team began working on Tinder projects.